Opera Gala Concert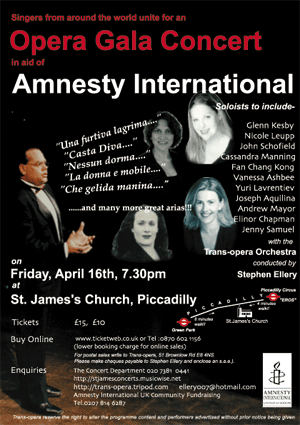 Opera singers of the world united for an Opera Gala Concert in aid of Amnesty International!!!




At 7.30pm on April 16th, 2004 at St. James`s Church, Piccadilly, London, an impressive array of soloists sang arias from some of the Greatest Operas of all times and raised £914 for Amnesty International.

The ten 10 soloists included Glenn Kesby, Nicole Leupp, Cassandra Manning, Fan Chang Kong, Vanessa Ashbee, Yuri Lavrientev, Joseph Aquilina, Andrew Mayor, Elinor Chapman and Jenny Samuel) from UK/China/Russia/Australia/Malta and the US and were accompanied by Stephen Ellery conducting the Trans-opera orchestra. There were also 6 volunteer leaflet distributors.
Please contact Trans-opera.

Please contact Trans-opera if you can help sell tickets and distribute flyers for future eventsOR if you would like to sponsor an event in any way and have your name (or the name of your company) appear in the program.
ANY REQUESTS?
If you have a special request for a future concert please contact me .
IN THE EVENT that your request is chosen for just £100 you will recieve two reserved seating tickets and have your request performed as we may still have time in a future program for a bit more music.
Program
Glenn Kesby- "Frondi tenere,ombra mai fu"-Handel,
Joseph Aquilina-"Una furtiva lagrima.."-Donnizetti
Cassandra Manning- "Ritorna Vincitor.." from Aida (Verdi)
Vanessa Ashbee- "Casta Diva.." from Norma (Bellini)
Joseph Aquilina- "La Donna e mobile..." from Rigoletto (Verdi)
Nicole Leupp- Tatiana's letter scene- from Eugene Onegin (Tchaikovsky)
Yuri Lavrentiev-Lenski aria "kuda,kuda?"-also from Eugene Onegin
Cassandra Manning/Fan Chang Kong- "Vieni la sera.." From Madam Butterfly (Puccini)

Interval

Andrew Manning- Prologo from Pagliacci (Leoncavallo)
Elinor Chapman-Barbarina's aria from the Marriage of Figaro (Mozart)
Yuri Lavrentiev- "La Fleur..." from Carmen (Bizet)
Andrew Mayor- Torreador from Carmen (Bizet)
Jenny Samuel/Joseph Aquilina-"Mon coeur ouvre a ta voix..." from Samson and Delilah (Saint-saens)
Fan Chang Kong-"Nessun Dorma..." from Turandot (Puccini)
Yuri Lavrentiev/Cassandra Manning "Che gelida manina.... Mi chiamano Mimi.." from La Boheme (Puccini)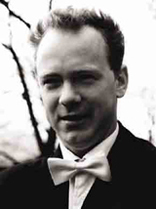 The event was conducted and organised by Stephen Ellery.
Although Stephen Ellery has given concerts and conducted operas and ballets in Russia, Yakutsk, Poland, Peru, Mexico, Japan, Italy, France, Vietnam, Chile and India, this Grand Opera Gala was his debut event in London.
For tickets to future events, please contact Stephen Ellery


Amnesty International works to promote human rights and works worldwide for the release of prisoners of conscience, to secure fair trials for political prisoners, and an end to torture, extra-judicial executions, 'disappearances' and the death penalty. Amnesty International has a vision of a world in which every person enjoys all of the human rights enshrined in the Universal Declaration of Human Rights.


Back to Trans-opera main page